No Stress Steps to Brushing Your Dog's Teeth
February is National Pet Dental Health Month so now is the perfect time to make sure you're keeping up on your K9's canine health! Keeping your dog healthy is a full-time job! Exercise, vet check-ups, flea and tick medication, and at-home maintenance are all part of being a responsible dog owner. We get it and know you wouldn't have it any other way. Brushing your pup's teeth is an example of something we know should be done but don't always include the task in their weekly or monthly maintenance routine. Most groomers will do a light teeth cleaning and, as your dog ages, your veterinarian handles the deeper cleanings. It's important however to do a little upkeep on your own between sessions and we've got four easy-to-follow steps to help you get it done.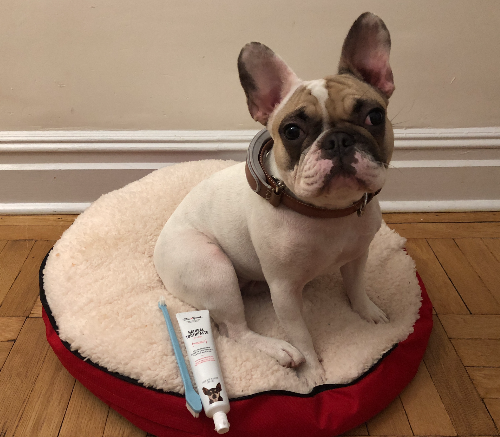 Pro-Tip: Our model, Fiona, has been doing this ritual every few weeks since she was 12 weeks old, so she's pretty comfortable with the process. If your pup is new to this, spend a little extra time on Step 1 (Calm and Comfy) to make sure that your dog is in the right state of mind before you even bring out the toothbrush.
Step 1: Calm and Comfy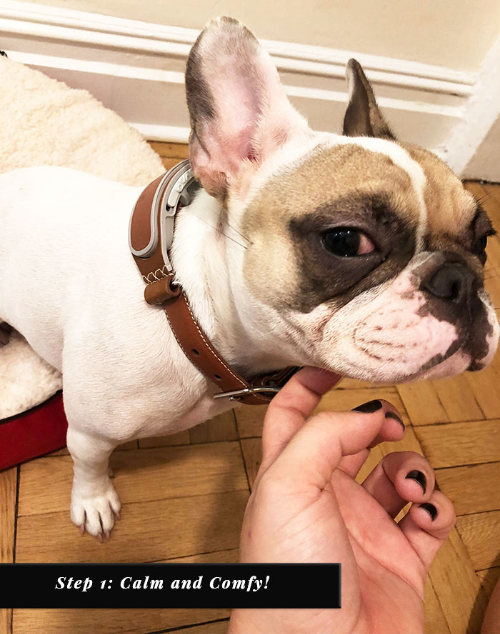 Chin scratches, their favorite healthy treat, a belly rub or two...whatever it takes to get your dog super comfortable and relaxed. They should be in a calm state-of-mind before you take any part of the toothbrush kit. As with anything new you introduce your pup to, making it a positive experience will go miles. If they start out anxious and see the toothbrush, that's more than likely the feeling they'll associate with it moving forward.
Step 2: Let Your Pup Taste Test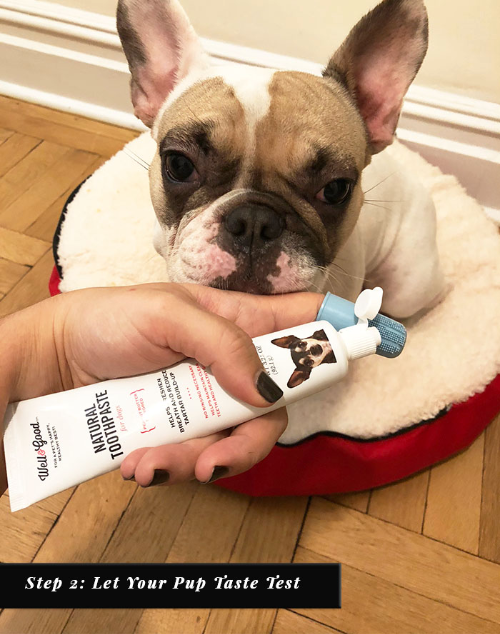 Fiona is a pro at this, but some pups might be turned off by the smell or taste of the doggie toothpaste. Make sure you're always using dog-specific materials (available online and at most pet stores) to keep your dog's tummy happy. Try out the different flavors and find one that they don't mind or even enjoy. Fiona's favorite flavor? Peanut butter!
Step 3: Introduce the Brush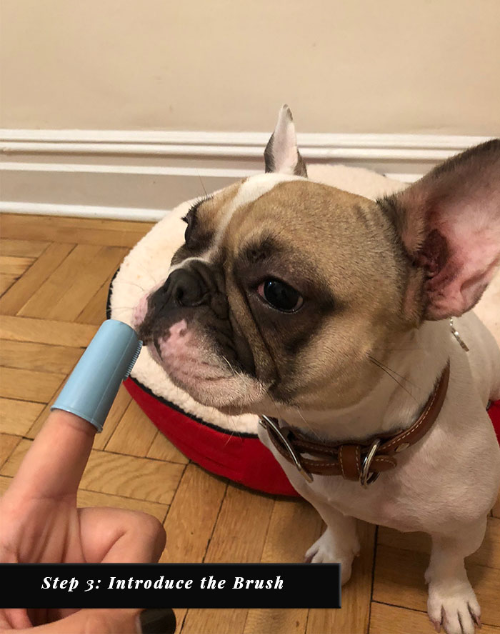 Let your dog smell the brush, taste it and get a sense of what you're putting in their mouth. Make it a calm process, sit on the floor with your dog, and don't hover above them. Give them a chance to understand what you're doing before you put the toothbrush in their mouth. It's sometimes easier, especially with a smaller dog, to use the fingertip toothbrush to make sure you're getting their gums and all of their teeth.
Step 4: Get Into The Gums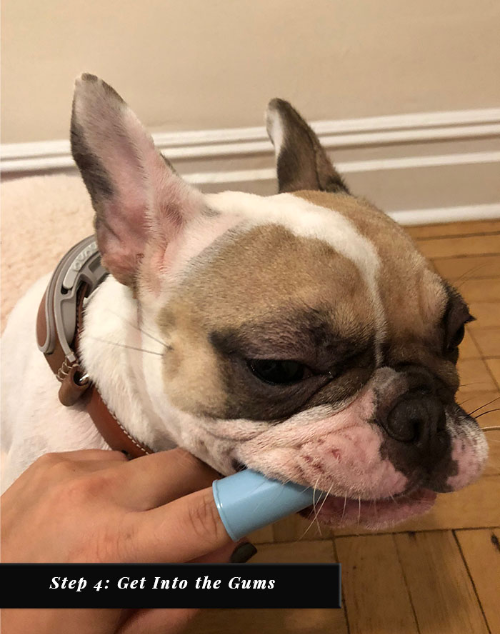 Make sure you're getting under your dog's jowls and into the gums. Keep teeth clear of plaque and food particles with soft but firm strokes with the fingertip toothbrush or handled brush. Work on each side for 1-3 minutes, paying careful attention to the back teeth. Take occasional breaks if needed to praise them for being good and to reinforce that this is a positive experience!
And that's it, brushing your dog's teeth in four easy steps for better hygiene and a healthier, happier pup. Do you have a special ritual with your best friend? Share it with us on Instagram!