Interior Dog-erating: Home Design With Fido in Mind
Dogs make a house a home, but how well does your home house your dog? From built-in feeding stations to dog beds under stairs, custom features can make your home more organized, stylish and fun for Fido.
If you're moving or renovating your home, consider these dog-friendly design features, compiled with the help of Heather Clark, Marketing Director at Gabriel Builders, the 2014 NAHB National Builder of the Year award winner.
Feeding Stations
"Built-in feeding stations are a great solution to keeping dog food and water bowls off of the floor," says Clark. They're most popular in the laundry room, mudroom or kitchen. You can customize for your dog's height, and, when dinner's done, tuck away the bowls for a streamlined look. According to Clark, these stations are "easy to incorporate no matter your budget."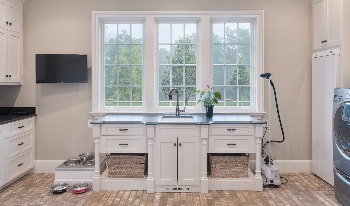 Dog-washing Stations
Muddy paws no more! Built-in dog-washing stations, and a LINK AKC Smart Collar, mean Rover can romp to his heart's delight. Clark advises that mudrooms, laundry rooms and garages are great locations for them. They offer convenience and easy clean-up when your dog shakes off. And the LINK AKC Smart Collar app makes it easy to record Rover's before and after shots in your digital album!
Dog Beds Under Stairs
Built-in doghouses or snoozing areas create coziness and consistency, and they're a great way to optimize space. A doghouse or bed under the stairs "fits perfectly into the rest of the home without taking up any more floor space," says Clark.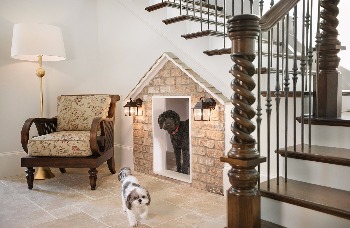 Dedicated Dog Rooms
Got space to spare? How about an entire room dedicated to Fluffy? Interior designer and TV host Vern Yip created a dog den for his four pooches. This hound haven offers inspiration for smaller spaces too, including individual leash hooks, artwork and tennis ball bins. Easy care tile flooring and direct access to the yard are easy-to-replicate features in your home. And don't forget to create a dedicated space in the dog den or your family's favorite room to use for your LINK AKC base station.
If you're hoping to add one of these ideas to your home, look for "a builder who understands your immense love for your dog," says Clark. "We always suggest creating space for four-legged friends! Who doesn't like spoiling their dogs?"
Have you carved out a special spot for your pup in your home? Share with us!
Photos: Courtesy of Gabriel Builders